Allan Melvin
Jump to navigation
Jump to search
Personal Information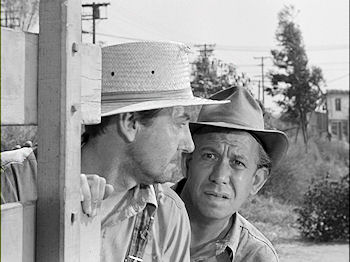 Born February, 18, 1922 in Kansas City Missouri
Died of cancer Thursday 17 January 2008 at his home in the Brentwood section of Los Angeles,CA
Married to Amalia Melvin for 64 years
Mayberry Appearances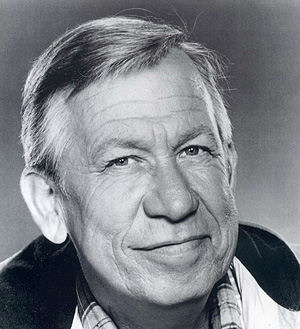 From his appearances in the guest roles mentioned above, Allan Melvin has proved to be one of the better known visitors to Mayberry. Allan Melvin was born on February 18, during the Depression years in Kansas City, Missouri. In order to pursue his career in acting, he moved to New York City.
Additional Television Credits
His familiar face and voice are known to anyone who has watched TV since the 1950's. He was regularly featured in the following TV shows :
From 1955 - 1959, he was Corporal Henshaw on The Phil Silvers Show ( a.k.a. - Sergeant Bilko )
Fans of The Andy Griffith Show will fondly remember his portrayal of Sergeant Charlie Hacker on Gomer Pyle, U.S.M.C., from 1965 - 1969.
He was frequently seen as Sam Franklin, the butcher, on the popular series, The Brady Bunch, from 1969 - 1974.
From 1973 - 1983, he was often seen as Archie Bunker's pal, Barney Hefner, on All In The Family, and later, Archie Bunker's Place.
Those of us who were children in the 1960's will recognize many of the cartoon characters that Allan Melvin gave life to by providing their voice. Some of these characters include : Magilla Gorilla, Sergeant Snorkel, Bumbler, Barney Google and Bristol Hound.
Allan Melvin's TV credits as a guest star, semi-regular, or as the voice of various cartoon characters include the following :
| | | |
| --- | --- | --- |
| The Adventures Of Gulliver | Alfred Of The Amazon | The All-New Popeye Hour |
| The Andy Griffith Show | Arnie | The Banana Splits Adventure Hour |
| The Chattanooga Cats | The Dick Van Dyke Show ( as Rob Petrie's Army buddy, Sol Pomeroy ) | Flash Gordon |
| Gloria Comes Home | Green Acres | The Honeymooners |
| The Joey Bishop Show | Kid Power | King Features Trilogy |
| The Kwicky Koala Show | Love American Style | The Magilla Gorilla Show |
| Man In The Middle ( A pilot for a proposed tv series, written by Harvey Bullock and Ray Saffian Allen, two TAGS writers ) | Mayberry RFD | McHale's Navy |
| Motor Mouse | My Favorite Martian | The Partridge Family: 2200 A.D. |
| Perry Mason | Run, Buddy, Run | The Secret Lives Of Waldo Kitty |
| We'll Take Manhattan | Yogi's Gang | |
He was even the voice of a demon in an episode of Kung Fu! Allan Melvin also appeared in the 1968 feature film, With Six You Get Eggroll. This movie was directed by none other than Ernest T. Bass himself, Howard Morris!
Resources