Howard McNear
Jump to navigation
Jump to search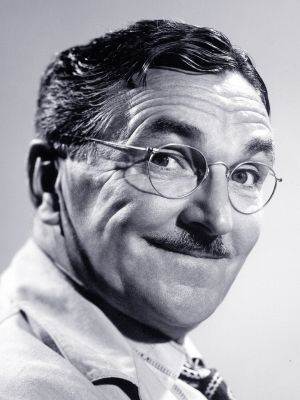 Howard Terbell McNear was born January 27, 1905 in Los Angeles, CA. His mother and father were Inzetta Spencer and Frank Ellis McNear. He had three older siblings: a brother named Frank Wood McNear (b: 29 Mar 1896 d: 29 Dec 1957); a sister named Ruth Ellis (whom Howard never met because she only lived 8 months and passed away 6 years before his birth (b: 29 Apr 1898 d: 5 Jan 1899) and a second brother named Ellis Hedges McNear (b: 7 Nov 1899). Both Howard and his oldest brother Frank married wives named Helen.
Career
Howard studied at the Oatman School of Theater and he joined a theater company in San Diego where he was a leading man. Howard began working in radio in the late 1930s, finding some fame for himself as an action star in the 1937–1940 radio serial "Speed Gibson of the International Secret Police". In this "Johnny Quest" type adventure show, he played the role Speed Gibson's uncle and ace operator Clint Barlow.
Howard was effective in authoritative roles like Clint Barlow, but he gravitated more toward character roles that often had a comic leaning.
He enlisted as a private in the U.S. Army Air Corps on November 17, 1942 during World War II serving until 1945 (AAF MOS 442 USAAF).
In 1952, he created the role of Doc Charles Adams in CBS Radio's Gunsmoke that ran until 1961. Fellow citizen of Mayberry, Parley Bear (a.k.a. Mayor Stoner) played Chester on the radio version of Gunsmoke.
Howard was under contract to CBS for many years and was featured in many of the network's radio and TV programs. From 1955 to 1960 he appeared frequently, in various roles, on the popular radio detective series "Yours Truly, Johnny Dollar."
Howard made his film debut in an uncredited role in the 1951 sci-fi film The Day The Earth Stood Still as a boarding house resident. The film also featured Fances Bavier (Aunt Bee) and Olan Soule (choir director John Masters) from TAGS.
Over the course of his career, he would appear in over 100 film and television guest spots.
In 1958, Howard guest starred as a barber named Andy on an episode titled "The Shave" of "Leave It to Beaver", a role which proved prophetic of what would come his way couple of years later.
Floyd the Barber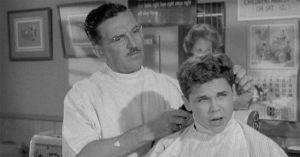 In 1961, he was cast as the talkative barber Floyd Lawson on The Andy Griffith Show. During the show's run, Howard suffered a stroke that rendered the left side of his body nearly paralyzed. He was off the show from the episode "Convicts at Large" which aired December 10, 1962 until March 30, 1964 in the episode "Divorce, Mountain Style."
In Richard Kelly's book, The Andy Griffith Show, Andy Griffith had the following to say about actor Howard McNear (Floyd):
"Then Howard had a stroke and was bad off for a long time. He was out of our show for about a year and three-quarters. We did a lot of soft shows, that is, those that were not hard on comedy -- stories about the boy or the aunt. But we needed comedy scenes to break up things.
We were working on a script one day, and Aaron [Ruben] said, `Boy do I wish we had Howard.' And one of us said, `Why don't we see if we can get him.' So right then we called up Howard's house and we got his wife, Helen. `Oh,' she said, `it would be a godsend.'
Well, we wrote him a little scene. He was paralyzed all down his left side and so we couldn't show him walking. We had him sitting or we built a stand that supported him. He could then stand behind the barber chair and use one hand. Most of the time, however, we had him sitting. His mind was not affected at all. He was with us about two years after that before he died. Finally poor Howard died. I'm sorry because there was never anyone like him. Kind, kind man."
Also in Richard Kelly's book, The Andy Griffith Show, Jack Dodson (Howard Sprague) had this to say about Howard:
"Unfortunately, I didn't know Howard before his stroke. Even after his stroke he was just a wonderful human being and a splendid actor. Sadly, it was during the playing of a scene with Howard that we realized he couldn't go on anymore.
It was the segment where I wanted to raise the rent on the barbershop. The characters had a great falling out and then, at the end of the show, they were brought back together in the courthouse. Howard had a little difficulty with that segment. We had to change our shooting schedules a little so that his days were not quite so long as they had been. And then, finally, we had a very simple scene of reconciliation. He couldn't remember it. He went over it and over it, frustrated with himself. Seeing his despair and anxiety was the most painful experience that I've ever had. And then he didn't come back after that."
On January 3, 1969, Howard McNear passed away of complications from pneumonia caused by a stroke at San Fernando Valley Veterans Hospital in Sylmar, California. He was interred in the Los Angeles National Cemetery. Actor and old friend Parley Baer delivered his eulogy.
Passing
Richard Linke (Associate Producer) had this to say about McNear's funeral:
"We went to the funeral, and I have to say that it was the only funeral I've ever been to where the laughs exceeded the tears. There were a couple of people who knew him well. They spoke in the form of a eulogy -- I guess you could call it that. Oh, but it was funny. They related Howard McNear stories from the pulpit. It was something else. Really, it made a nice thing. I think Hal Smith, who played Otis, got up there. It was something else, those stories. And yet, it was all done with dignity. Oh, he was a nice man."
When McNear passed in 1969, it was his old friend Parley Baer who delivered the eulogy at the funeral.
Howard was survived by his wife, Helen, and son, Christopher (a.k.a. Kitt).
Links
Podcasts