Andy Taylor
Jump to navigation
Jump to search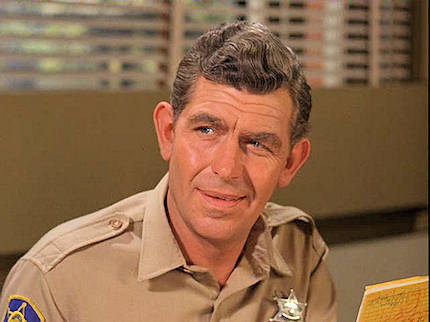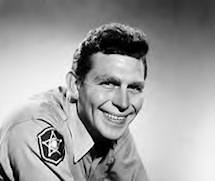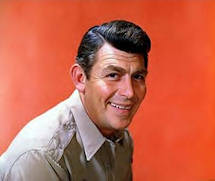 Sheriff Andy Taylor through the years.
Andy Taylor
The role of Andy Taylor was played by actor Andy Griffith.
About Andy
Andy lived in Mayberry all his life, having attended and graduated from Mayberry Union High School. Little is known of his early life other than the fact that he was raised, in part, by Aunt Bee. Little is known of his marriage as well. In the only reference to his wife; he confides in Opie that they had that "special kind of love" that only soul mates have.
Andy enjoys the outdoors. He would just as well go camping out, as travel for a vacation. He loves to hunt, shoot skeet, and go Fishing (his favorite past-time with his son Opie). While at home Andy enjoys playing the guitar, sitting on the front porch visiting, and reading the Mayberry Gazette or the National Geographic. Andy works hard at his job as Sheriff, but he makes time for family (Aunt Bee and Opie) and special friends. Any had many favorite food including Leg of Lamb. Fried Chicken. and..
One of the most notable topics of conversation about Andy is perhaps his long list of Lady Friends. They include: Season 1 Ellie Walker, Season 2 Thelma Lou's cousin Karen, County Nurse 1 Mary, and County Nurse 2 Mary Simpson, Season 3 Peggy McMillan, Fun Girl Daphne, Sharon DeSpain, Season 4 Helen Crump intermingled with brief encounters with the Lady Speeder and Charlene Darling. Its pretty much Helen from then on with brief unintended flings with movie star Darlene Mason, family friend Alice Harper, and adoring Flora and an ill-adivsed date with Mavis Neft. By Maryberry RFD, Andy and Helen tie the knot.
Andy has many good qualities, including his respect and understanding of people, his faith, his honesty and integrity, but nothing stands above his exemply behavior as a father. Andy is a teacher and friend, a role model who is willing to admit his own mistakes to his son, and a single parent who see's beyond his own child's faults into the man he can become thourgh teachable moments of loving fatherly counsel.
Trivia
The Actor, Andy Griffith, liked to wear boots. This caused his uniform pants to often catch on them.
The orginal idea for the show was for Andy to be hickish like he was in "No Time for Seargents" and the pilot episode on Danny Thomas, but after seeing the fine comedy work of Don Knotts and Howard McNear and others in Season 1, Andy took more of a straight character role
FAQs
More information can be found in the Mayberry FAQs: Andy / Andy_Griffith setion.
Catch Phrase(s)
You are a bird in this world!
such goings-on, such goings-on
I'll be dogged
Call the MAN!
You beat everything, you know that!
External Links
NONE