Mr. Schwamp
Jump to navigation
Jump to search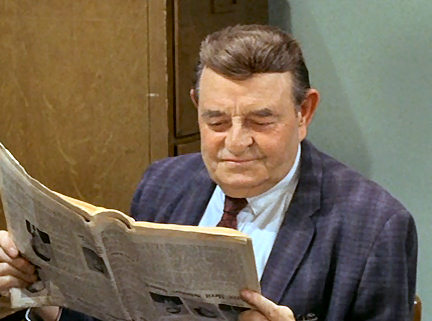 Mr. Schwamp...the man...the mystery.
Mr. Schwamp
Mr. Schwamp (or Schwump, as he is better known) is the older dark haired man you often see sitting on the bench outside the barbershop or in groups of people in Mayberry.
Over the years, every cast and crew member of The Andy Griffith Show has been asked if they know the name of the actor who played Mr. Schwamp. While all of them remember him, none of them knows his real name. (And yes, Andy Griffith has been asked, as has Producer Richard Linke.)
Episodes
There are 26 documented Schwamp episodes:
Mr. Schwamp never speaks so you'll have to watch closely to spot him. A few times he is called by name, but usually he's just in the background, sometimes waaaay in the background.
The Andy Griffith Show
Gomer Pyle, USMC
One Of Our Shells is Missing (4/5/1967) - Pyle and Sgt. Carter are in an army surplus store trying to locate a missing mortar shell, when Mr. Schwump walks across the back of the pawn shop.
Supply Sergeants Never Die (10/22/1965)
Inconsistency
In the episode "The Fun Girls", during the scene of the Community Dance, Mr. Schwump is seen behind Andy and Barney on the dance floor. When the camera pans, he is sitting in the corner with a lady drinking a soda through a straw!
Patch S. Wimmers
On April 1, 2012 The Andy Griffith Show Rerun Watchers Club (TAGSRWC) played a "April Fools" joke on the visitors to their Facebook fan page . What follows is the content of the post:
Mr. Schwamp's Identity Discovered!!! After decades of painstaking investigation and research by dozens of Mayberry enthusiasts, we have finally identified the actor who played Mr. Schwamp! With funding from TAGSRWC'S own Weaver's Dept. Store (thanks, ol' Ben!) and with several people working to assemble small pieces of the puzzle from a huge number of sources, we finally solved Mayberry's Greatest Mystery!



An obscure mention in the credits of an episode of "The Danny Thomas Show" from 1956 was the key breakthrough. That, combined with Census records and the power of Google and Ancestry.com and eventually Screen Actors Guild records led us to a definite conclusion.

We're pleased to announce that the actor who played Mr. Schwamp was a man named…Patch S. Wimmers. Through U.S. Census records from 1950 and 1960 (found on Ancestry.com), we found that Patch S. Wimmers lived in North Hollywood, just blocks from the Desilu-Cahuenga Studios, where "The Andy Griffith Show" was filmed. He could've literally walked to work in Mayberry, which means he could've been available to work as an extra on a given episode on very short notice.

We further found that a Patch S. Wimmers lived in and was perhaps born in Camp Threw, Miss. The earliest listing we found for him was the 1920 Census, which says he was 16 years old and living with his parents (his father was in the Army Air Corps) and two siblings in Mississippi. At some point the young Wimmers moved to California. We speculate that maybe his father was transferred to a military base in California. (We're not sure about that because his father is listed as residing in Poi Falls, OR, during some of that period.)

Patch is already spotted acting very Mr. Schwamp-ish (which is to say, not acting much at all) in "Christmas in Connecticut" in 1945 and in the 1946 Three Stooges feature film "Swing Parade." He would have been 41 to 42 during that time. He doesn't pop again in our research until the 1956 "Danny Thomas Show." And then in TAGS in "My Fair Ernest T. Bass" in 1964. And the rest is history…26 episodes of TAGS and a few episodes of "Gomer Pyle, U.S.M.C." and "Mayberry R.F.D." and similar appearances.

We're hopeful that we'll now find many more appearances by "Mr. Schwamp/Patch S. Wimmers. But for now, on this here day, April 1, 2012, we're just pleased to finally announce that Mr. Schwamp is Patch S. Wimmers of Camp Threw, Miss. (and most probably Poi Falls, OR).



Click on the photo for compete details about how this mystery was solved!
Clicking on the link provided in the post took you to http://WeaversDepartmentStore.com and the following notice:
April Fool's!!!

In the words of Gomer Pyle, "What a dumb trick!"

But in the words of Ernest T. Bass, "Hee-hee-hee-ha-ha!"

Pssst! So that others might enjoy the full experience, PLEASE don't give away the joke with comments on our Facebook post that spill the beans, at least for a day or two. Of course, if you want to make comments that express amazement and congratulations for our "discovery" and thereby egg on other people to fall for the joke, that's great. Otherwise, just "Like" the post and "Share" it with others, if you like.  Thanks!

And best of all, Ben Weaver has this to say: Free shipping on your online Weaver's orders received now through April 15! Here's how you get it: Just type "Mr. Schwamp" into the "Comments" area of your Weaver's Order Form, and we'll manually deduct the normal $5 shipping charge from your total before processing your order.  See...April Fool's isn't totally foolish, after all!
TAGSRWC members enjoyed the experience and received a discount on their order from Weaver's for a few days.